All our Joomla! extensions are ready for Joomla! 5 (except for GeoTax for J2Store). Please note:
It is important to update our extensions before updating Joomla! itself.
The B/C Plugin ("Behaviour - Backward Compatibility") must be enabled.
What does "Joomla! 5 (B/C Plugin)" mean?
In the Joomla! extensions directory you will find compatibility for Joomla! 5 and Joomla 5 (B/C Plugin). What does that mean?

The B/C plugin is already installed and activated in your Joomla! 5 installation. It enables "backward compatibilty" for code that was already used in Joomla! 3 and 4. Without the plugin, legacy methods are no longer available and plugins that use them do no longer work.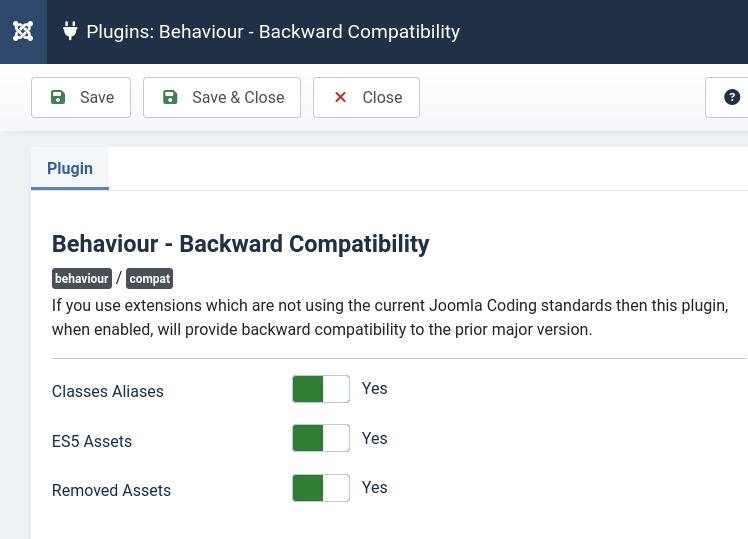 Newly written or reworked extensions can have native Joomla! 5 compatibility. In most cases where you find an extension that is ready for multiple Joomla! versions, the B/C plugin will be needed.
Please be sure to use the latest versions of our extensions. Joomla! 5 support has been added to our extensions since the following versions:
Joomla Extension Aimy...
Version
Sitemap

✓

32.4
Speed Optimization

✓

19.6
Canonical

✓

27.0
IndexNow

✓

4.1
Video Embedder

✓

17.2
Responsive Iframes

✓

6.1
Captcha-Less Form Guard

✓

13.1
H1 Heading

✓

5.3
If you have any issues with our extensions while updating to Joomla! 5 feel free to contact us!
Why do our extensions need the backward compatibility plugin?
Short answer: because we don't want to drop support for Joomla! 3 right now as it is still used on thousands of websites.