Aimy Sitemap v27.0 supports Bootstrap 3/4 in HTML sitemaps, automatically splits very large XML sitemaps, features a new icon theme and a new translation (to Dari).
Bootstrap 3/4 Support
HTML sitemaps generated by Aimy Sitemap now allow to choose whether containers should be annotated with Bootstrap 2 or Bootstrap 3/4 CSS classes.
This makes it easier to suite an HTML sitemap for your website's theme.
XML Sitemap Splitting / Sitemap Index
XML Sitemaps should not exceed the amount of 50,000 URLs. As some users are using Aimy Sitemap PRO on sites that tend to exceed this limit, Aimy Sitemap now automatically splits XML sitemaps if necessary and generates an appropriate XML sitemap index file as well.
Example: with a configured XML path of sitemap.xml and a set of 80,000 active URLs, Aimy Sitemap will generate the files sitemap-1.xml (XML sitemap containing 50,000 URLs), sitemap-2.xml (30,000 URLs) and sitemap.xml (XML sitemap index). The XML sitemap index will point to the former two XML sitemaps.
New Icon Theme
In order to get a nice look & feel that is more independent of the Joomla! version used, Aimy Sitemap now uses a separate icon theme developed by Aristeides Stathopoulos and provided under the terms of the SIL Open Font License: "Elusive".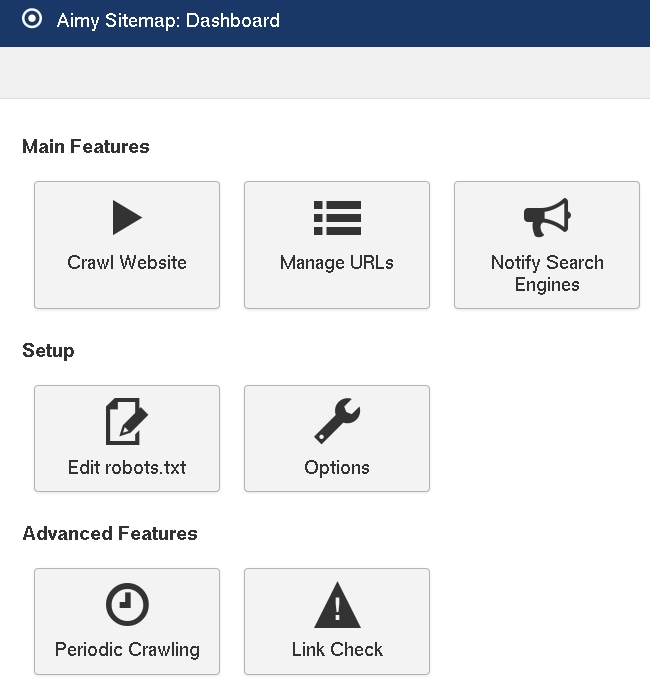 In order to trim the set to contain just the needed icons, we used the Fontello Icon Font Generator.
New Translation: Dari
A translation to Dari (prs-AF) has been contributed by Mohammad Hasani. Thanks!
Credits in HTML Sitemaps
HTML sitemaps generated by Aimy Sitemap now show a short, internationalized and modest in appearance (opacity 75%) credits paragraph which contains a backlink to Aimy Sitemap's website, for example:
The PRO version allows to choose whether the credits paragraph should be shown in the HTML sitemap's menu item. (If you already use Aimy Sitemap and update to v27.0, the paragraph is not shown until its menu item is edited again.)
If you are using the free of charge version you'll receive a notice on this topic as soon as you update - if you like to remove the paragraph, feel free to do so: you'll find instructions in the FAQ.
Other Improvements
Besides that, various other improvements and smaller fixes have been added, for example
improved detection of HTML sitemaps during a crawl,
support for session cookies in our HTTP client (increases performance),
improved internal management of written XML sitemap files,
reduced appearance of the "Aimy" mascot and
improved Joomla! 4 support.