The new version of the Aimy Sitemap Joomla! component comes with three new features and improves the support for websites that do not use Joomla!'s SEF features.
New Feature: robots.txt Editor
Edit your robots.txt file right in Joomla!'s backend using Aimy Sitemap: make your changes, save the file and you are done without the need to copy the file via FTP or something alike.
In case you deleted your robots.txt file or want to start over, Aimy Sitemap comes with a default robots.txt file that is just a click away to save you time and provide a nice fallback in case you need it.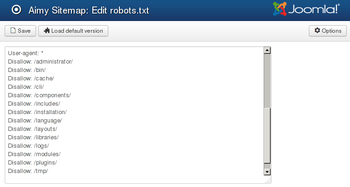 New Feature: List View for HTML Sitemaps
In addition to the "Index" view for HTML sitemaps, Aimy Sitemap now provides the possibility to show sitemaps as simple top-down lists using the new "List" view. This rather minimalistic view might improve the user experience on smaller sites.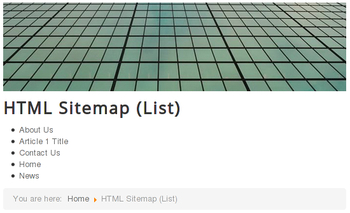 New Feature: Set HTML Headings
In the previous versions Aimy Sitemap used internationalized default headings for HTML views. Users had to use Joomla!'s language override feature to customize these.
Now page headings can be set as usual using the menu item's Page Display tab what makes customizing your HTML sitemaps somewhat easier.
Improved Crawler
Aimy Sitemap Crawler had some issues crawling Joomla! websites that did not use search engine friendly (SEF) URLs. These have now been fixed.
If your website does not use search engine friendly URLs and you installed a previous version of Aimy Sitemap, just crawl your website again to apply the fixes included in the new version and be sure to have a look at the improved index later!
Minor Size and Performance Improvements
We now use some standard techniques (like php -w) to shrink the size of our code down to improve speed and save disk space. By this diet, Aimy Sitemap's code lost about 30 percent in weight - without loosing any muscles!
Going Pro
We are currently planning to launch "Pro" versions of some of our extensions that will allow you to use our servers to get automatic updates, early or even exclusive access to features that are especially interesting for professional use and priority support.
However, some ideas are still up in the air and require some further thought - stay tuned!