Aimy Sitemap has been translated to Dutch, comes along with improved title handling and PostgreSQL support (PRO).
Dutch Translation
Sitemeesters contributed a Dutch translation of Aimy Sitemap - thank you very much!
Improved Title Handling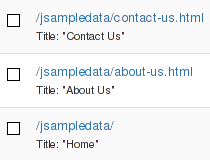 In previous versions of Aimy Sitemap, URL titles were shown as tooltips when hovered upon an info button in the "Manage URLs" view. Now titles are always displayed below the URL they belong to.
PostgreSQL Database Support (PRO feature)

The new version of Aimy Sitemap PRO comes with support for PostgreSQL as well. As a result, Aimy Sitemap PRO can now be used on Joomla! installations that use PostgreSQL as a database.