Aimy Sitemap v3.18.0 comes with a lot of new features and improvements: dashboard, browser notifications, Yandex notification support, omnipresent quicklinks, wildcard extension support for robots.txt and crawling protocol selection.
Dashboard
Aimy Sitemap's new dashboard allows you to select the feature you need easily. Features are grouped and accessible with a single click.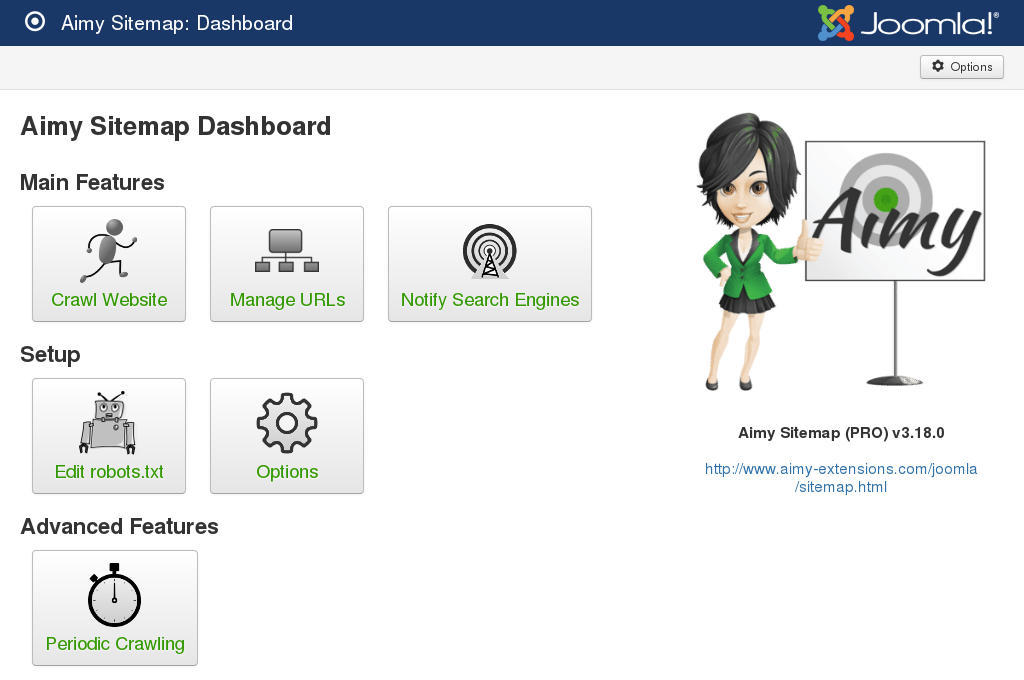 Browser Notifications (PRO Feature)

The PRO version of Aimy Sitemap comes with browser notification support: After a crawl of your website finishes, a notification is send to your browser and displayed on your desktop. This way, you can start a crawl and then start working on another project - Aimy Sitemap will notify you once the crawl has successfully finished.
This feature is enabled by default - however, as usual, you can disable the feature in Aimy Sitemap's option in case you do not like to be notified.
Yandex Notification Support
The new version of Aimy Sitemap introduces support to notify the Yandex search engines about content changes on your website as well.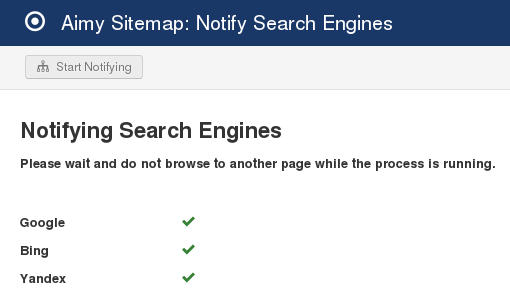 Of course, you can configure whether you like to notify Yandex in Aimy Sitemap's options (disabled by default):

Crawling Protocol Selection (PRO Feature)
To give you just another bit of control on how Aimy Sitemap crawls your website, the PRO version now allows to specify the protocol used during a crawl in Aimy Sitemap's options.

Selecting "Automatic" as an option (which is the default) enables the behaviour Aimy Sitemap has used before: the current protocol active for the Joomla! backend is used for the crawl as well.
Disguise as Browser
Some websites deliver different content based on the User-Agent or even block clients that are not listed in a whitelist based on this criterion. To work around this, Aimy Sitemap's crawler allows to disguise as a common browser (Mozilla Firefox) instead of using its own User-Agent since version 3.17.0 (PRO).
Now this feature is available in the free version of Aimy Sitemap as well.
On a new installation of Aimy Sitemap, your website is automatically checked on whether the feature needs to be enabled - and if so, the option is set automatically as well.
Omnipresent Quicklinks
As Aimy Sitemap comes with a lot of different options, quicklinks to all of them have been added to the extension's footer. This way, you can access all of Aimy Sitemap's functionality even faster:

User-Interface Improvements
Aimy Sitemap now uses the Chosen jQuery plugin to improve the user-friendliness of select boxes even more. This way, Aimy Sitemap's user interface now integrates better into the common Joomla! style.

Wildcard Extension Support for robots.txt
Aimy Sitemap now supports wildcards in robots.txt entries as handled by Google's bot. In details, both "*" and "$" are now supported, i.e.
User-agent: AimySitemapCrawler
Disallow:   *.gif$
Disallow:   /images/*/thumbs/

Have a look at the pattern matching examples for further details.
Coming up next
After these features have been implemented and finally released, we are going to add some more major features to Aimy Sitemap in the upcoming versions.
For example, there will be a link checker that does not only collect and visualize all found HTTP 404 errors but also reveal which pages those defective links have been extracted on. This way you can easily find the relevant page and fix the broken links.
Besides that, we consider to add support for sitemap extensions, i.e. image sitemap extensions, in one of the next releases.
Stay tuned!