Aimy Sitemap v31.0 includes support for the new IndexNow protocol (using Aimy IndexNow PRO) and contains a workaround for partial SEF URL issues on Joomla! 4.
IndexNow Protocol Support
In August 2017, Yandex shut down its XML sitemap ping notification API. Bing did so as well in May 2022.
Both search engines now support the new IndexNow protocol, which allows notifications on content changes to be submitted immediately.
Aimy IndexNow does provide that functionality already, but now Aimy Sitemap can use Aimy IndexNow's functionality to submit recent content changes in the "Notify Search Engines" view.
This way, you can use Aimy Sitemap as usual, but sent notifications to both Bing & Yandex via indexnow.org.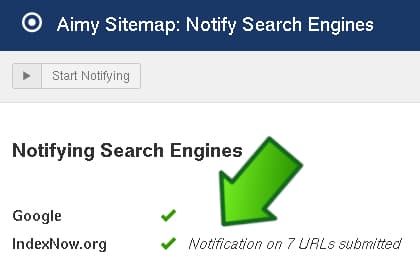 In order to use this feature, you need Aimy IndexNow PRO installed and support for IndexNow enabled in Aimy Sitemap's options. For more details, have a look at "How to use Aimy Sitemap and Aimy IndexNow together".
Joomla! 4 Partial SEF Issue with HTML Sitemaps
On Joomla! 4 there has been an issue with partial SEF URLs when a menu item was been created for HTML sitemaps - we implemented a workaround for that issue and included it in the release.