Aimy Video Embedder now allows additional options for more privacy (PRO feature), introduces Joomla! 4 support and uses our new versioning scheme. Additionally a French translation has been added!
Two-Click Mode (EU Privacy Mode) (PRO Feature)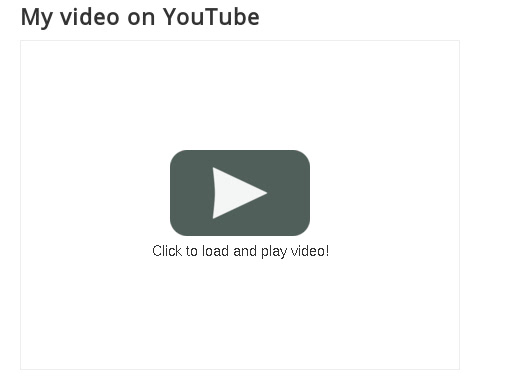 Aimy Video Embedder has used the "enhanced privacy for embedded videos" for quite a long time. This option is provided by YouTube to prevent the setting of cookies. With the new feature two-click mode you can enhance privacy even more.
Usually, if you embed a video from a platform like YouTube on your website, data of your visitors is transferred to the platform directly when going on that page. According to the new GDPR (General Data Protection Regulation / EU privacy law) a user should be informed about that — at best before data is transferred.
With the two-click mode the video is replaced by a placeholder. This way, the visitor has to click once to load the video and once to play it (two click activation). Within the placeholder you can give information on your privacy policy.
Aimy Video Embedder provides a default placeholder in English. You may enter an individual text and/or an image that is shown instead of the video.
GDPR Privacy Policy
Whether you use the two-click mode, just the no-cookie option of YouTube or embed the video without any privacy settings: According to the GDPR you have to provide a page about your privacy policy in any case and include a paragraph on embedding videos.
Joomla! 4 Support
We tested Aimy Video Embedder on the Joomla! 4 alpha releases and made all changes necessary to run the plugin on those preview versions of the upcoming Joomla! major release already.
Any further tests and necessary adjustments will be made once new alpha-/beta-/pre-release versions of Joomla! 4 are released.
French Translation
Thanks to Raymond Vassieux for kindly contributing a French translation!